Railroad Art Commissions by Chris Nelson
American Railroad Art Commissions

I will do commissioned paintings that are specific to your favorite American Railroad. When doing an art commission, I prefer to work from specific photos or a combination of images (that you provide) in order to create a very unique painting.


Specific Subject Matter

I can paint steam, diesel, rolling stock, structures, etc.. I can also paint any season and/or any time of day. So, if you have your own special idea for a commissioned painting, I would really like to hear from you!


Cost Guidelines

The general pricing guideline is listed below. This pricing should only be used as a guideline for commissioned art work. The overall composition will determine the final price (i.e., it could be more or less than the general pricing guideline below).


Timelines for Completion

The timeline for completion of commissioned art work is usually about four to six weeks in total. It generally takes two weeks for composition, layout, and drawing and then four weeks to do the actual painting. I require 20% of the commissioned price upon signing our agreement (based on the general pricing guideline below). The remaing 80% of the commissioned price will be due upon completion.


In-Progress Updates

I will periodically provide you with digital images while the painting is in progress.


Materials Used

All of my paintings are done on arches 300lbs paper and I use only Winsor & Newton Watercolors that are permanent and have the lightfastness rating of 1 or better. Using these highest-quality materials in combination results in a painting that will last a lifetime.


My 100% Satisfaction Guarantee

If for any reason you are not completely satisfied with a commissioned painting, I will work with you to make the painting right. However, if you are still not completely satisfied, I will refund 100% of the commissioned price on all American Railroad paintings. Note: Only paintings returned in original and undamaged condition will be elgible for the 100% commission refund.


Sales Notice

All sales are final after 10 days of shipping.


Copyright Notice

Nelson Art Works retains all copyright and publication rights to any paintings produced.
NO WORK CAN BE REPRODUCED WITHOUT THE EXPRESSED WRITTEN CONSENT OF Nelson Art Works.


General Pricing Guideline
| | | | | |
| --- | --- | --- | --- | --- |
| Image Size | | | | Cost |
| | | | | |
| 12" x 16" | | | | $850.00 |
| | | | | |
| 18" x 24" | | | | $1595.00 |
| | | | | |
| 20" x 30" | | | | $1800-$2400 |
Shipping Charges

Shipping and handling charges are not included and will be added to the overall cost of the painting.


Other Art Commission Possibilites

If you would like to commission a non-American Railroad painting (i.e., club railroads, model railroads, etc.) please contact me with your idea; however, please be advised that the pricing for all non-American Railroad commissions will be negotiated on a case-by-case basis.

For you reference, here's an image of my most recently completed commission.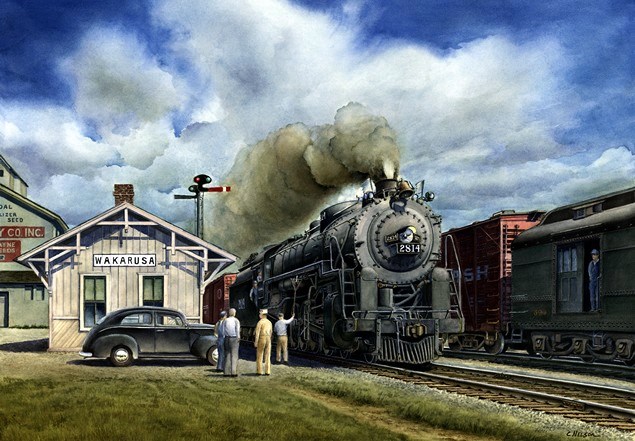 The client provided specific direction throughout the composition and painting stages which ultimately led to a finished product that was tailored to their exact specifications.
Contact Chris Nelson

I'm looking forward to hearing from you so please contact me via email at cnelson@nelsonartworks.net or give me a call on
1-484-356-4122 and, as always, thank you for shopping at Nelson Art Works.